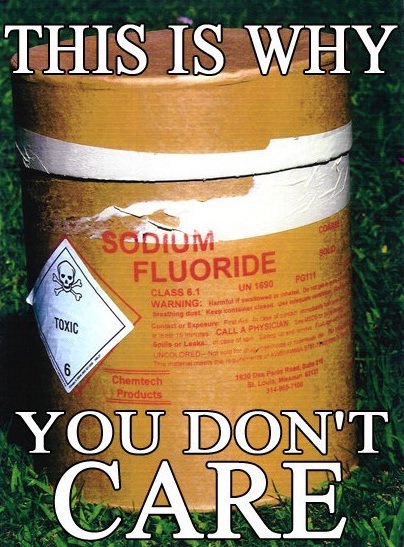 The government lie that sodium fluoride is good for our teeth, becomes funnier as time progresses, and as you start to understand the government for the entity that they truly are.
They spray us hard with toxic nano sized particulates daily, and they are rush implementing a 5g death grid without any safety testing, during an alleged recession, with no public consultation. They only communicate lies about its safety, and of course their motive for installing it in the first place. They also ban CBD/hemp which could save the world in an enormous number of ways. They steal our summer, they block out the sun, and have a secret agenda to make us hate it. And much more, you're welcome to add your own example.
Yetttt they really care about the health of our teeth
:joy:
:joy:
:joy:
#wakeup
Sodium fluoride is a neuro toxic agent that lowers your consciousness, and it makes you dumb as a result. This has been proven by peer reviewed scientists (the lancet) and Harvard university. Research links below if you're lazy
Another major piece of evidence and red flag that sodium fluoride is an intentional mind control agent, is the lack of any natural fluoride free toothpastes in ANY of the major supermarkets. Most of the natural toothpastes are more effective than fluoride toothpastes, for reasons already mentioned and the fact that sodium fluoride can cause fluorosis over time, which makes your teeth brittle and easy to snap.
Supporting evidence:
Fluoride Officially Classified as a Neurotoxin in World's Most Prestigious Medical Journal
http://eatlocalgrown.com/…/13130-fluoride-classified-neurot…
Impact of fluoride on neurological development in children
https://www.hsph.harvard.edu/…/fluoride-childrens-health-g…/
Fluoride - The Hard to Swallow Truth Documentary HD
https://youtu.be/wQFS-YA8PWc
Don't Swallow Your Toothpaste (This aired on Channel 4)
https://youtu.be/ua7i8akFeOw
I have been sodium fluoride free since 2005
p.s. Did you know that sodium fluoride is a toxic waste product from brick, metal and nuclear manufacturing industries? It is the main ingredient in many rat poisons, and just a teaspoon of it will kill you.
Please research what you're absorbing into your body every day.